There are several blog events coming up on some of my blogging friends' blogs that I thought I'd share with you. First off, Miss Elizabeth Bennett at
Elegance of Fashion
is hosting a blog party: Jane Austen Week!! Of course, I'm excited about anything involving my favorite author. :) The party begins on Monday, August 8th. There are 11 questions to answer (the 11th question is on a later post). I'm definitely planning on participating. :) You can click the link above or click the button below to get more information.
The next event is another blog party. :) You are all invited to a birthday party for Miss Anne Elliot (as in the fictional character from Jane Austen's novel "Persuasion") on Tuesday, August 9th. The party is being hosted by Miss Laurie at
Old Fashioned Charm
, and it will last all day long. You can click the link or the blog button below to read more about it. :)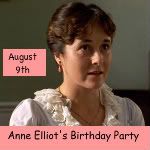 Lastly, Hayden over at
Story Girl
is hosting a Tangled Fashion Blog Party. :D There are 3 different categories to enter: Fashion, Art, and Writing. It sounds like a lot of fun! Entries will be accepted until August 31st. As before, you can click the link above or the button below to go to her blog. :)
I'm planning on participating in all of these events...if I can. :) We'll see how crazy things get in the last week before school starts up! :} I wanted to get the word out to all of you, though. :) Let's make their blog parties a great success!